Belgian troops patrolling Brussels Central Station "neutralized" a person after a small explosion on Tuesday, a police spokesman said, adding that there were no other casualties and the situation was under control.
Witnesses said La Grande Place was cleared in seconds, while others took pictures of a fire in the nearby Central Station.
Belgian media have reported a man wearing a explosive belt has been "neutralised" by police. "There were no other casualties and the situation was under control," said a policeman
"At the moment, the police are in numbers at the station and everything is under control."
Het Laatste Nieuws tabloid newspaper quoted what it said were witnesses saying a man shouted "Allahu Akbar" in Arabic before a small explosion. Soldiers ran toward the spot, saw wires protruding from the man's clothes, and shot him. That account could not be independently confirmed.
Arnaud Reyman, spokesman for rail network operator Infrabel confirmed the station was evacuated.
He said, "There was panic in the station and on the tracks after an incident."
Bart Crols, a spokesman for the SNCN railway company, confirmed all rail traffic in the city has been suspended after witnesses tweeted a picture of a fire at Central Station.
Two possible explosions reported in #Brussels Central station.

Grand Place being evacuated & police reportedly on streets.

Info unclear. pic.twitter.com/nRv4x7kIja

— Charles Lister (@Charles_Lister) June 20, 2017
Soldiers, firefighters, armoured trucks and police were pictured outside the station after it was evacuated.
Federal police have confirmed the blasts and say soldiers opened fire on man.
One witness said he was 'lucky to be alive' after something that sounded like a 'bomb' allegedly went off near him.
Ludoivic Hampton wrote: 'When you're walking through central station and something that looked and sounded like a bomb goes off 30 metres away from you.
'I'm lucky to be alive.'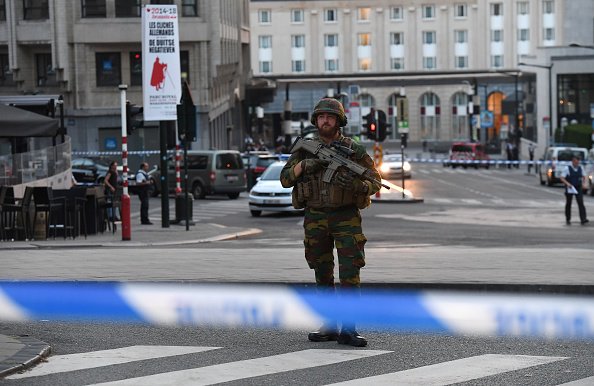 #UPDATE Center that monitors threats in Belgium says soldiers "neutralized" suspect at Brussels train station https://t.co/rMHw3tfNyD pic.twitter.com/MP6jJyzZTo

— WPLG Local 10 News (@WPLGLocal10) June 20, 2017
Broadcaster RTL quoted Fires Services spokesman Pierre Meys confirming that some kind of an explosion had happened in the city's Central station on Tuesday. Meys could not say what had caused the blast.
He could only confirm that firefighters were at the scene.
Belgium has been on high alert since suicide bombers killed 32 people on the Brussels subway and at an airport on March 22, 2016.