21 individuals have died and 32 have been injured in a bomb blast inside NADRA office in Mardan, Waqt News reported. "Rescue teams have been dispatched to the site," media reported. "Most of the injured are critically injured," hospital officials told the media.
The injured have been transferred to District Hospital Mardan and other nearby hospitals. "The blast was very powerful and its voice could be heard a long distance away," media reported. The security forces have surrounded and sealed the area.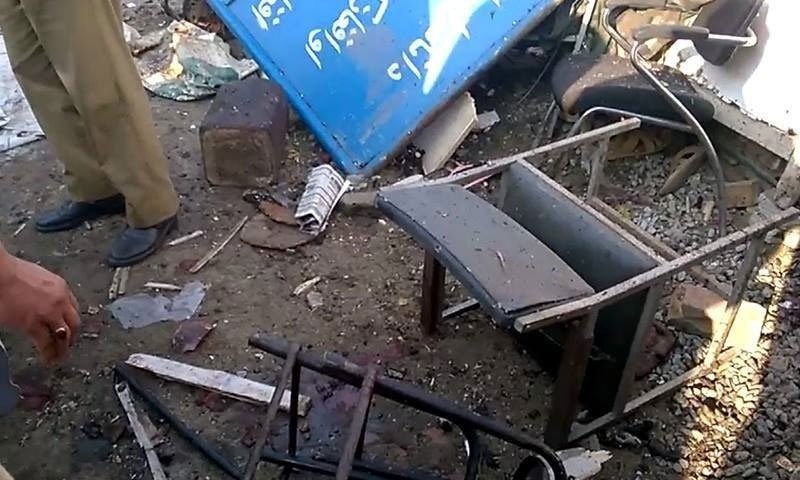 Office furniture scattered as a result of the blast
According to the reporter of Waqt News this NADRA office is a central point of nearby regions and a large number of people come here to register and resolve issues related to their national identity cards.
Federal Interior Minister Chaudhary Nisar has taken the notice of the blast and condemned the incident . "He has ordered to present the report immediately," media reported. Prime Minister Nawaz Sharif and PPP co-chairman Bilawal Bhutto Zardari have also condemned the blast.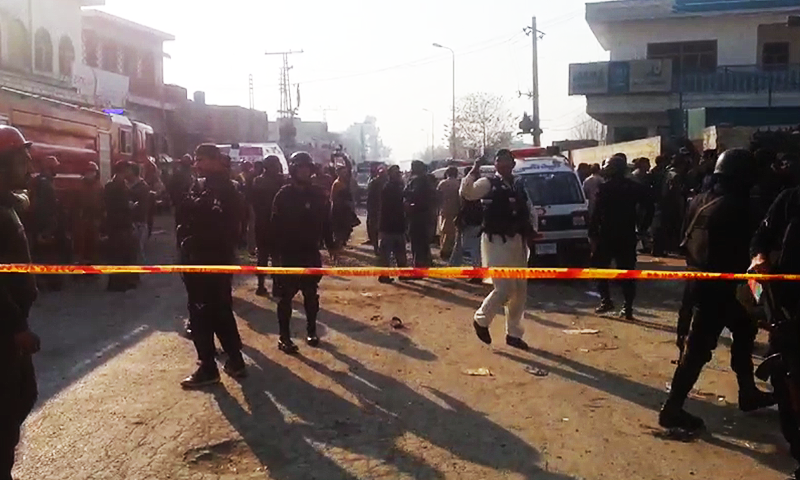 Policemen at the site of the attack
Meanwhile PTI chairman Imran Khan has also paid his sympathies to the family of targeted and condemned the blast severely.
While talking to the media Khyber Pakhtunkhuwa (KP) Information Minister has said that emergency has been implemented in all the hospitals and medical centers in Mardan.
According to DIG Mardan the blast was a suicide attack and the attacker was riding a motorbike at the time of attack.
Condolences started pouring in on social media after the attack
I feel sorry for the people who lost their lives in #Mardan today. Lets pray that terrorism & extremism is eradicated soon from #Pakistan

— Furqan T. Siddiqui (@furqantsiddiqui) December 29, 2015
Deeply saddened by this horrific incident of suicide blast at #NADRA #MARDAN.

December 29, 2015
May Allah rest the people who are dead and bless health to the injured #Mardan

— Jowdut (@JowdutS) December 29, 2015
Tahir ul Qadri was one of the first to condemn the attack on social media.
I strongly condemn the bomb blast at Nadra office in #Mardan and express my deepest grief on loss of precious lives.

— Dr Tahir-ul-Qadri (@TahirulQadri) December 29, 2015
US envoy to Pakistan condemns suicide blast in Mardan
Ambassador of United States (US) to Pakistan David Hale has strongly condemned the loss of precious lives in the Mardan suicide blast. In a statement issued here on Tuesday, David Hale said, "The Embassy of the US strongly condemns horrific attack in the city of Mardan, outside the regional office of the National Database and Registration Authority (NADRA)." He said that he offered his sincerest condolences to the victims and their families. "This attack on civilians shows a complete disregard for human life," he said, adding, "our thoughts and prayers are with the victims and their families at this time."
Asif Zardari condemns Mardan blast
Former President Co-Chairman Pakistan Peoples Party Asif Ali Zardari has strongly condemned suicide blast at Mardan NADRA office which reportedly killed 22 people and injured over 40 and called for effective measures to stop continuing bloodshed of innocent men, women and children.
In a statement former President said that the attacks on citizens and the bloodletting of innocent people cannot and must not be allowed to go on with impunity. He called for immediate, decisive and credible measures to stop this barbarism.
He said that people of KPK had suffered the most due to terror attacks. He said that such cowardly attacks will not be able to shake people's resolve to fight menace of terrorism till the end.
He asked PPP KPK leaders to visit the homes of those killed on his behalf to convey his condolence and also look after injured.
He prayed to Almighty Allah for eternal peace to the departed souls and early recovery for the injured. He also sympathized with the bereaved families.